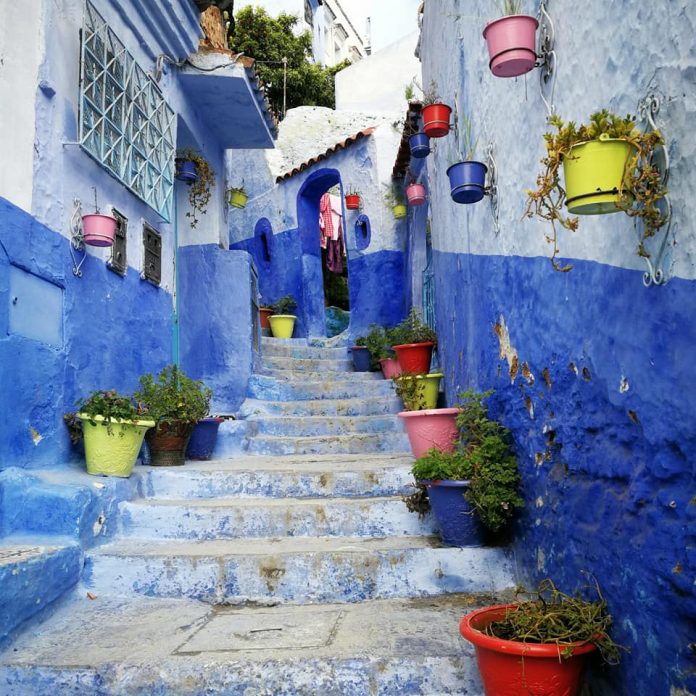 After wandering with imagination in the direction of Chefchaouen , dreaming of walking through its blue lanes and photographing every suggestive corner of it, they finally arrived in the Rif mountains where this little town is located, set on the slope, and I was amazed answer to all my questions; "Will it really be as you see in the photos?" "Are the doors of the houses really painted like this?" "Is it all blue or just some areas?"And now I can say it too; Chefchaouen is exactly as it is always shown and imagined, all painted blue . The houses, the fountains, the doors, the streets are of many different shades, but all blue. Immensely blue. 
Precisely for this reason it was declared a World Heritage Site by UNESCO and although in recent years tourism, even mass tourism, has taken hold, its position off the most common routes has allowed it to remain almost untouched and maintain its breathtaking beauty . In fact the only "flaw" if we can say so is that this little pearl, is far from the big cities and should be reached with the idea of ​​reaching it .
# How to get to Chefchaouen
The best way to get to Chefchaouen is by car. We have booked a transfer service, with drivers, personalized and customizable, door to door, with Tangier Taxi , which from Tangier, has accompanied us to Fes, allowing us, with comfort, tranquility, air conditioning and an integrated internet connection, to stop for 3 hours also at Chefchaouen. 
Book with Tangier Taxi, it was also quick, after having made arrangements in email, the exchange takes place in English, you pay with paypal a small deposit and at the end of the service you can make the balance in euros.
For an all-female trip, like ours, this was the best, safest choice, and had a perfect compromise in price quality, making it possible to dream of seeing Chefchaouen, but also to pass between mountain roads, large valleys planted with wheat, lakes with bright colors, local markets and small villages of shepherds with minarets that propped the landscape here and there.