The beach is a long, uninterrupted strip of fine white sand bathed in transparent water ( Blue Flag 2018 ). Equipped beaches alternate with wild stretches, with fossil dunes covered with arbutus and juniper bushes. Behind it, an expanse of Aleppo pines and Mediterranean scrub that spreads scents of myrtle, thyme, rosemary. Welcome to Castellaneta Marina, the other Puglia . That of those who flee the crowds and excesses of Salento, and seeks more secluded, less traveled, in which it is still possible to combine fun and relaxation , having available quality facilities and services. In the shade of the pine forest that stretches along the coast overlooking the west coast of the Gulf of Taranto, there are many good hotels where you can enjoy a comfortable stay at prices, moreover, more than accessible even in high season.
MOVIDA E NATURA
If you really do not want to give up luxury, you can book at Kalidria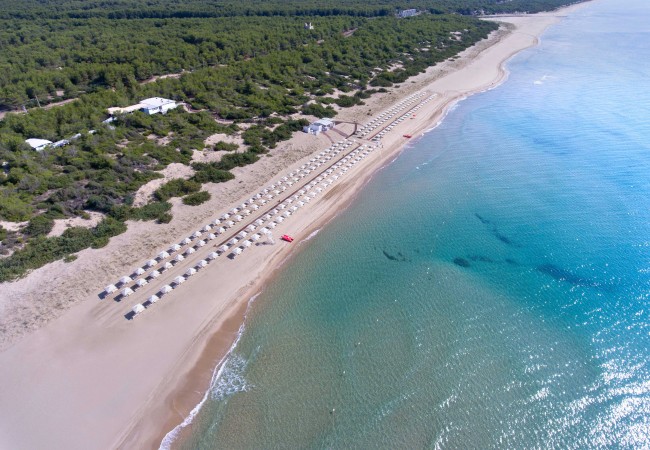 , a 5-star hotel and resort with thalassotherapy center (where Vasco Rossi has elected his retreat). Immersed in the vegetation, the structure reopened at the beginning of the summer, after the modernization works carried out by Emilio Ambasz, guru of natural architecture, which made it an oasis of quiet and tranquility , perfectly integrated into the landscape. 
Aligned on the promenade, the beaches have terraces overlooking the water with bars and restaurants, which in the evening become lively places to sip an aperitifadmiring the sunset or getting late after dinner accompanied by DJ sets and live music concerts. 
During the day, swimming in the sea alternates with walks in nature, on foot or by bike, within the Bioenergetic Reserve of Stornara , a protected area of ​​over 1,500 hectares that surrounds the village, up to the mouth of the river Lato, a refuge for many species of birds , from the heron to the white stork, on which the remains of an ancient Norman watchtower stand watch.